The luxurious and expensive hotels in the world span from different countries and cultures worldwide, However, some of these pricey hotels have more to offer than just a comfortable room to sleep in. These expensive hotels also offer an exquisite dining experience, a spa, access to lush gardens and pools, and impeccable service.
It's an understandable fact that all of us want to experience a slice of comfort and luxury when traveling, but some hotels do it more than most, with beauty and refinement in every step.
The hotels discussed here are known internationally as the world's luxury hotels, and it is worth visiting one of them for at least one time.
10 Most Luxurious and Expensive Hotels Around the World:
10. The Royal Suite – Burj Al-Arab – $28,000
One of the most famous hotels globally, Burj Al-Arab starts from the list of the most luxurious hotels worldwide. Located in Dubai, UAE, the Burj is the first 7-star hotel globally and is undoubtedly up to standards.
It has become the only hotel in the world. It is the 7th highest hotel globally and has been built to imitate the ship's sail by architect Tom Wright.
The hotel is situated on a human-made artificial island, which can only be accessed by a private curved bridge to the mainland.
As well as all the sprawling bells and whistles you would like to see in a seven-star hotel, the Burj Al-Arab has a private helipad, which is about 210 meters higher, nearby roof. You would have a minimum cost of $28,000 one Night at the Royal Suite.
Set on two floors and painted in 22 karat gold, the 780-meter suite features a private dining and Butler, pool, private bar, and many personnel to respond to any call and request. It's a great deal in a city like this and fulfills its wort. So if you are traveling to Dubai and want to experience rich life, this place is right for you to start your royal Journey.
9. The Royal Suite – The Plaza ( One Night: $40,000)
We got another "Royal Suite" next up, but that one is at The Plaza in New York, and you'll get a nice $40,000 a night. So, what are you for?
Well, begin with the privately-owned elevator, which can only be used in the suite. The next room you enter is the 400-square-foot suite, an exquisitely decorated dining room and the finest in luxury and facilities.
The suite has three beds, three bathrooms, a living room for up to 12 persons, the main dining room, and an exercise area.
8. The Hilltop Villa ( One Night: $45,000)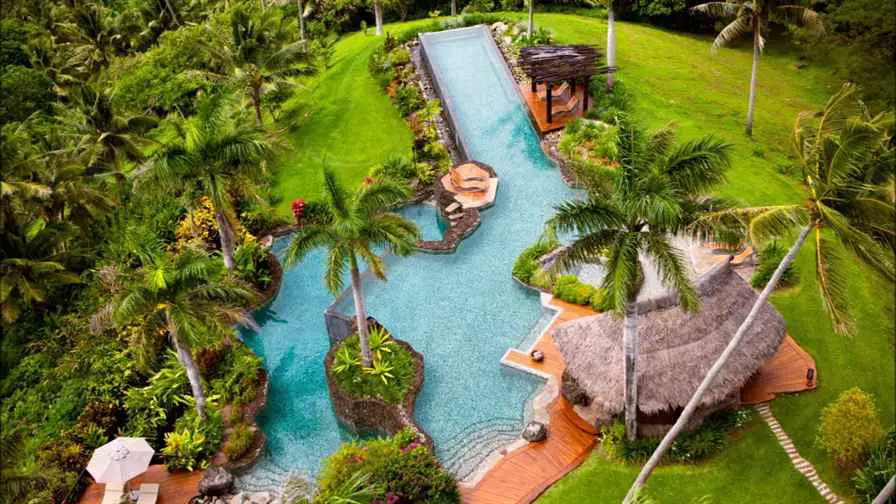 The Hilltop Villa, only available to the super-rich, is shrouded in heaven. Located on the island of Laucala, Fiji, the hotel costs $45 thousand a day.
However, with this, you will have a 4-acre villa, divided into three estates, each with the most breathtaking views on the island.
"The Delana" first villa features a master suite with a lobby, a library, a dining room, a huge private swimming pool with a hot tub and a waterfall, and a sturdy wood-burning tub. "The Dua," the second villa, has similar characteristics but sleeps in luxury two of them; both of them are sloping doors.
7.  The Muraka Suite – The Conrad (One Night: $50,000)
At number seven on our list of the most expensive hotels globally is The Muraka. The suite is located in the Maldives at The Conrad and is marketed as the world's first underwater hotel suite. The Muraka is two stories tall, with the bottom story being roughly 16 feet below the Indian Ocean.
For $50,000 a night, you can expect to be automatically upgraded to Hilton Diamond Status upon arrival; enjoy a private chef, bar, gym, Butler, and infinity pool. However, don't get too ahead of yourself as there's a four-night minimum stay requirement. So, if you want to stay there, you're looking to spend more in the region of $200,000!  
6. The Penthouse Suite – Hôtel Martinez – $53,000
In the Hotel Martinez, you can get $53,000 a night from the Penthouse Suite. Located in Cannes, France, Hôtel Martinez is one of the most popular resorts on the French Coast.
You should get a 1000 m2 Suite on the upper floor of the hotel for your $53,000; from your private wooden panoramic terrace, you have a magnificent panoramic view over the sea.
There is a separate living and dining area, a marble toilet, a Turkish bath, and a private jacuzzi on the terrace in each of the four bedrooms. If you are in your craft, you would be happy to know that Picasso and Matisse have many objects decorating the suite's walls. You should sit back and see from the terrace when art isn't your thing!
5. Ty Warner Penthouse – Four Seasons  (One Night: $60,000)
The Ty Warner Penthouse at the Four Seasons Hotel in New York kicks off the top five countdowns. Ty Warner is the house owner, and this luxurious hotel suite costs you about $60,000 a night. The $400 square meter suite, located on the top floor of the building, has a total cost of about $50 million.
The suite has a 360-degree panoramic view of the center of New York, which includes four glass balconies overlooking the center, center, and south.
You can only be provided with one bedroom in this suite. Still, you will also have a pool, a kitchen, a panoramic infinity bath, a lift, and a dedicated guest relations officer. You should use the complimentary massages tossed to a reasonable extent if that is not enough.
4. The Mark Penthouse – The Mark Hotel  (One Night: $75,000)
The Grand Penthouse hotel in the Mark area is United States' most enormous hotel suite penthouse with a hefty 10,000 square foot surface.
You should expect a large penthouse for $75,000 per Night that extends over the two top floors of the hotel. You will furnish with five beds, six bathrooms, four fireplaces, two wet bars, two powder rooms, and a large dining room open plan.
The living room even has a party trick since it can be converted into a full-size 26-foot balcony. Maybe a 250 square foot, panoramic Central Park terracing is one of the most beautiful features of the Penthouse Suite. If you're looking for some time to play King/Queen of New York, then book yourself in this suite for a few nights!
3. The Royal Penthouse – Hotel President Wilson (One Night: $80,000)
You will find this hotel for you in Geneva, Switzerland, and have $80,000 for a night. The Hotel President Wilson's Royal Penthouse is located in the entire 8th story. The hotel overlooks the lakes of Genève and Mont Blanc with a panorama and 12 suites, 12 baths, and an indoor Jacuzzi.
You will have a 24/7 personal escort, private chef, and Butler, in addition to the luxury furniture and views. When you stay in a luxurious hotel, security is of the highest importance to you, so be confident the Royal Penthouse is one of the best.
The room is equipped with bulletproof glass, 24/7 protection, a camera safety system, and a reinforced safety safe for your goods. A snooker table from Brunswick in 1930, a grand piano from Steinway, and a home theatre device from BeoVision 4-103 from Bang & Olufsen can also be found. And you can achieve all this through your lift.
2. Empathy Suite – The Palms (One Night: $100,000)
In The Palms, Las Vegas, the Empathy Suite is the second highest-priced hotel in the country, making the 100,000$ a night price tag break. Damian Hurst's Empathy suite was the result of a complete refurbishment of the former Sky Villa suite.
Two bedrooms for up to $100,000, you can get massage tables, an enhanced hot tub with a view of the Las Vegas Strip, a salt relax area, and an on-site tour of the art gallery.
This suite is mainly for art lovers as there are six originals from Damian Hurst and personalized furniture with his themes. Then reward yourself if you're a fan of Damian Hurst with spare cash.
1. Lover's Deep – Luxury Submarine Hotel  (One Night:$150,000)
The Lover's Deep Luxury Submarine Hotel is the world's most costly hotel, at $150,000 a night. Here, it isn't the same sort of experience as some other hotels on the list would have expected you to go into a submarine underwater.
However, if you want to pair an adventure with a night away, maybe that is your hotel. The underwater hotel in St. Lucia can be sailed across the Caribbean to meet tourists' expectations.
Underwater 5-star lodging, with your Pilot, a private Cook, and Butler, transfers from and to the submarine by speed boat and some other extra supplementation such as aircraft transfers, landings at the beach, etc., champagne-soaked breakfasts. It will be a lifelong experience that you will never miss – stay at the world's most costly hotel!
Conclusion:
In conclusion, it is understandable that all of us want to experience a slice of comfort and luxury when traveling, but some hotels do it more than most, with beauty and refinement in every step.
The hotels featured in this article are among the top 10, due to the extensive list of amenities they offer at expensive prices and these are among the most expensive hotels. Let us know in the comments below.